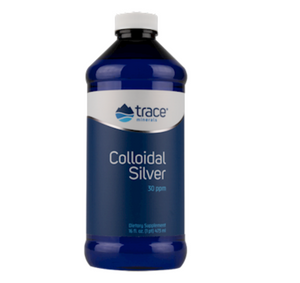 We gargle with this, we put it on a shallow cut, we use it on pimples, when we've been around someone who has the cruds...the list goes on!
Colloidal Silver is a dietary supplement with over 30 ppm per serving of 99.999% pure colloidal silver to support and maintain a healthy immune system.*
Trace Minerals use proprietary technology to process this high-quality colloidal silver for maximum effectiveness.*
• Non-GMO • Fast Absorbing Liquid Formula
• Super Oxygenated Pure Colloidal Silver • Vegan
Gluten-Free
Free of Artificial Colors/Flavors
Contains no additives, coloring, or stabilizers.
Allergen Info: contains no known allergens. GLUTEN-FREE.
Always keep in a dark container out of sunlight. Do not freeze
*OUR HEALTH CLAIMS HAVE NOT BEEN REVIEWED BY THE FDA