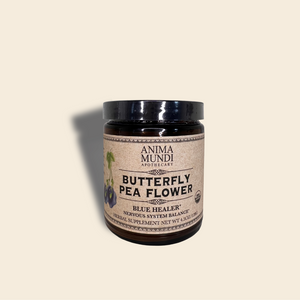 In Ayurveda, a traditional Indian system of medicine, Butterfly Pea Flower tea, known as Anchan tea, symbolizes protection, love, and peace in religious ceremonies. Linked to the Hindu goddess Aparajita, it holds spiritual significance. Besides, this tea is rich in antioxidants like anthocyanin, acting as a natural food colorant.
Butterfly Pea Flower, native to Southeast Asia, is used globally, including Central and South America. Beyond its spiritual role, the tea benefits skin, hair, and eyes and serves as a natural dye. Adding lemon can change its blue hue to violet due to pH alteration.
This Butterfly Pea Flower elixir is a powder that can be mixed with water, teas, or any of your favorite beverages to help regulate your nervous system.
Benefits:
Spiritual symbolism in Ayurveda
Abundant antioxidants
Enhances skin, hair, and eye health
Anti-inflammatory effects