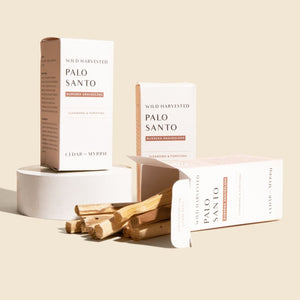 Exhale....your space is about to be cleansed & purified. 
Also known as "Holy Wood," palo santo is often used by Indigenous Amazonian and Andean healers in sacred rituals to purify, attract positive energy, and bring peace around them. Some say it has the ability to ward off bad energy, aid in healing, calm and cleanse the body and mind, as well as bring good fortune to those that burn it.
To burn, simply light the end of a stick and keep the flame burning for about a minute. Blow out the flame and blow gently to keep the embers smoking. The stick will emit the beautiful fragranced smoke that will leave a lasting scent for several hours.
This premium Palo Santo comes from the coast of South America. It is wild-harvested from naturally fallen wood to ensure sustainability and quality at our carefully selected farms. Scent: Pine, Mint, Lemon, Fireplace, Sweet. Palo Santo Sticks (Approximately 4.0 x 0.5 x 0.5 inches)