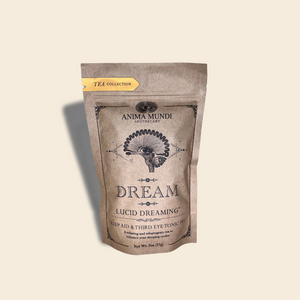 Within our physical selves resides the enigmatic realm of the Nervous System, governing our perception of both self and reality. An intricate network of the sympathetic and parasympathetic nervous systems pervades every nook and cranny of our body and mind. It is of utmost importance to diligently tend to this matrix, satisfying its requirements for a life that is awake and harmonious.
Ancient herbal remedies have long served to facilitate entry into profound states of meditation and slumber. These botanicals possess the potential to amplify alpha and theta brain waves, fostering an environment conducive to lucid dreaming. Research indicates that when the brain frequents the Alpha/Beta state, it engages with a realm of utmost self-regeneration. Yogis, shamans, psychic mediums, and advanced meditation practitioners have sought this state to unlock the serene and euphoric realities that lie along our mind-body axis.
This concoction is a fusion of calming flora, referred to as nervines, including organic Skullcap, Blue Lotus, Passionflower, and Kava Kava. These are complemented by rejuvenating adaptogens like Ashwagandha and Tulsi.
Primary Advantages:
May promote profound sleep* [R]
Potentially alleviates insomnia* [R, R]
Aids in restoring the nervous system* [R]
Could facilitate meditation and lucid dreaming practices
Environmentally packaged in post-consumer recycled material