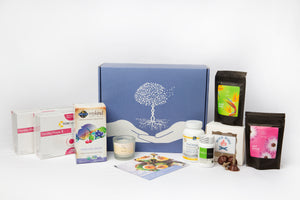 Whether you are just beginning to walk this fertility path or you've been on it for a while, we want you to have access to some of the items out there to give you the best chances possible.
Rest assured, all items are non-toxic, created with your wellness and your future baby's health as first priority. However, as always, check with your physician before using any products before, during, and right after pregnancy.
Includes:
WHAT: Lotus Wei "Moon Magic" Bath Salts (for follicular phase)
WHY: Moon Magic recharges + purifies your energetic bodies, balances yin/yang energies and encourages unconditional love + clarity, loving-kindness toward others, softness. And dissolves uncertainty, feeling unsure which way to go, murkiness, dark, unsure how life will play out, tension.
WHAT: Lotus Wei "Joy Juice" Bath Salts (for luteal phase) 
WHY: Making babies can get serious & stressful when it becomes our sole focus or conception has become a deep struggle. Joy Juice will help magnify your joy, laughter, euphoria, contentment, and help you enjoy life more, while dissolving seriousness and feeling the weight of responsibilities.
WHAT: Lotus Wei "Open Heart" Anointing Oil
WHY: Because this gorgeously heart opening perfume replacement won't bog down your body's chemistry with endocrine disruptors that lurk in perfumes. (Be sure to ditch the household & laundry room cleansers you have that contain "fragrance" too!)
WHAT: Young Gentry "Grace" 2.5 oz. Candle
WHY: Because we all need grace when it comes to the roller coaster ride a fertility journey can feel like. Light this candle while you remember to have grace for yourself and trust in the brilliance of your own body.
WHAT: Fertility Boosting Recipes
WHY: Because food is medicine and can contribute to, or take away from, optimal hormone balance in the different phases of your cycle.
WHAT: Ultra High Absorption Prenatal Vitamin
WHY: Often prenatal vitamins can be overwhelmingly large and difficult to swallow, or maybe they aren't even created in a bioavailable form. The contents of these small capsules are super available to your body. We think you'll love them.
WHAT: CoQ-10, 100 mg, 60 tabs
WHY: CoQ-10 is considered to be useful in improving egg quality. Yes please! And this one is highly absorbable.
WHAT: Omega 3s, 60 caps
WHY: Also great help in improving egg quality (sperm quality too, btw)
WHAT: Psyche Soma's own "Restore Me More" & "Sweet Peace" Herbal Decoction Teas
WHY: Restore Me More will help you rebuild your blood and energy after a cycle, pre-ovulation & Sweet Peace will help you keep your nerves nice and calm (plus layer on a nice thick dose of antioxidants) while you wait to see what happened this month - when seconds can feel like hours.
WHAT: Acupressure points for pre & post ovulation (point location & instructions included)
WHY: Acupuncture is your gold standard of care here (and super effective for boosting fertility so get thee to an acupuncturist stat!), but we want to empower you to do some self-care in the mean time.
If you're ready to try acupuncture, here's a resource for you to find a licensed practitioner near you: www.nccaom.org 
WHAT: Mantra for the Creatress you are
WHY: Your mind is listening...and so is your body. Let's tell her what she needs and wants to hear.
WHAT: Access to Calming & Empowering Spotify playlist
WHY: Music makes everything better: our eggs, love making, roller coaster rides....
**If you do not see a pictured item described here in the list of inclusions, it means we have upgraded that item with one that is either a better match for this remedy kit or is of better quality. 
**These statements have not been evaluated by the FDA