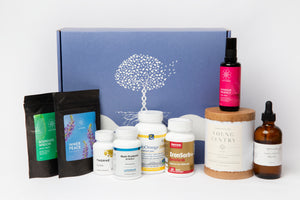 Are you, or is someone you love, expecting? This one makes a great "yay me!" or congratulations, baby shower, or sprinkle gift!
Rest assured, all items are non-toxic, created with your wellness and your baby's health as first priority. However, as always, check with your physician before using any products before, during, and right after pregnancy.
Includes:
WHAT: Lotus Wei "Fierce Compassion" Flower Essence Elixir
WHY: This elixir helps to magnify love, nurturing, appreciation of things just as they are, healing, overall envelopment of love an caring for ourselves + others. And helps to dissolve old emotional wounds of the heart, feelings of loss, betrayal, resentment and abandonment.
WHAT: Lotus Wei "Radiant Energy" Bath Salts
WHY: Magnify your energy, vitality, protection, strength, powerful presence, immune system boost, recharge after air travel, & computer use. And dissolves fatigue from overstimulation.

WHAT: Lotus Wei "Infinite Love" Anointing Oil
WHY: Spare your beautiful body and growing baby the chemicals and endocrine disruptors of synthetic fragrances. Use this gorgeous perfume replacement instead! Magnify unconditional love for yourself & others; attract love + affection, enhanced magnetism, attractiveness + charisma. Magnifies gentleness, compassion, softness + receptivity. And dissolve irritation, being hard on yourself, hard heart, feeling attacked, resentment, anger, jealousy, codependency, giving away all your energy to others and forgetting your own needs, past trauma, breaking through old patterns.

WHAT: Young Gentry #8 2.5 oz Candle, Violet, Fresh Lime, Jasmine, Tonic Water, & Green Tea
WHY: Because violet can help to reduce tension headaches, lime refreshes and helps to restore mental clarity, Jasmine lifts the spirits, & Green Tea soothes.
WHAT: Smith + Olive Organic Belly Oil
WHY: This small run, locally sourced belly oil is fantastic. Slather that growing belly and prevent stretch marks with this rosehip, pomegranate, argan oil blend. 
WHAT: Psyche Soma's own "Belly Joy" Herbal Decoction Tea
WHY: Chinese herbs have been used for millennia for all kinds of wellness. The herbs in this formula were collected to synergistically calm your nerves and cool you down. And are safe for you and baby.
WHAT: 3 Tree Journal to capture your memories of this magical journey 
WHY: This simple, yet beautiful journal will encourage you to record the amazing and awe inspiring moments of this journey you are on.
WHAT: Acupressure points to help ease nausea & improve energy
WHY: Acupuncture is always the gold standard of care, but if you can't get to licensed practitioner, these acupressure points can help you ease nausea, feel calm, & have good digestion. Here's a resource for you if you're looking for an acupuncturist near you: www.nccaom.org 
WHAT: Mantra for Mama-To-Be
WHY: The stressors of pregnancy can really be a great training session for parenting. This mantra will help get you in the mama mindset - while staying in touch with who you are.
WHAT: Access to Calming & Empowering Playlists
WHY: Because every journey needs a playlist!
*If you do not see a pictured item described here in the list of inclusions, it means we have upgraded that item with one that is either a better match for this remedy kit or is of better quality.
*These statements have not been evaluated by the FDA