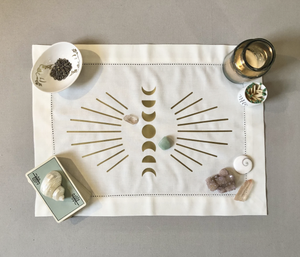 We women are born with the gift of being in close relationship to our moon and her phases. Tuning into her rhythm and how our inner ebb and flow can be in sync with the ebb and flow of mother nature can be a beautiful way to tune into our own rhythm.

Remind yourself of your relationship to nature and the phases of the moon with this gorgeous altar cloth.
Care: Dry clean only. Do not wash or iron. 75% cotton; 25% linen with high quality permanent heat transfer vinyl in gold.
Dimensions: 19"x14"