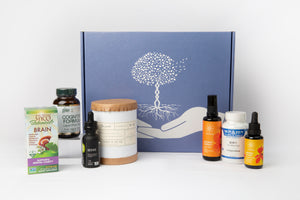 We are bombarded with distractions these days.  This box is here to help you reclaim your focus and dedication to your life's purpose. 
Includes:
WHAT: Lotus Wei "Inspired Action" Flower Essence Elixir
WHY: Inspired Action magnifies motivation, drive, follow through, decisiveness, fearless creativity, innovation, intuition, synchronicity, tackling your big goals, finishing projects and dissolves procrastination, lack of follow through, feeling stuck, writer's block, indecision, projects left undone, distracted mind.

WHAT: Lotus Wei "Radiant Energy" Flower Essence Mist, 50 mL
WHY: Radiant Energy magnifies your energy, vitality, protection, strength, powerful presence, immune system boost, recharge after air travel, computer use, x-rays and dissolves fatigue after computer/cell phone use or air travel, overstimulation, taking on others' stress, feeling invisible, weak immune system.

WHAT: Young Gentry #2 10 oz. Citrus Candle, grapefruit, orange, pomelo & violet
WHY: The essential oils in this blend are fantastic focus boosters. Burn this one down when you really need to stay on task.
WHAT: Lion's Mane Mushrooms, 60 caps
WHY: This mushroom supports brain function, memory, focus, & learning.
WHAT: Psyche Soma's own "Focus Up" Herbal Decoction Tea
WHY: These herbs were blended to work synergistically, to give your body & brain the support they need to feel clear & alert.
WHAT: Acupressure Points to help with focus
WHY: Acupuncture is always the gold standard of care, but we want to empower you to use the next best thing: acupressure! Stimulate the points we provide you with gentle pressure when you're ready to focus up.
WHAT: Mantra to help you stay focused
WHY: It's tempting to want to skip the 2 to 20 minutes a day on setting intentions and getting clear on your purpose, but doing this - even for just a couple of minutes - makes all the difference.
WHAT: Access to Focus Spotify Playlist
WHY: Because focusing can be fun!
**If you do not see a pictured item described here in the list of inclusions, it means we have upgraded that item with one that is either a better match for this remedy kit or is of better quality.
**These statements have not been evaluated by the FDA