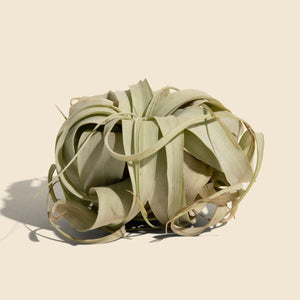 Plants and their green color remind us of LIFE. Well, when we slow down enough to notice, that is. This is why I think it's nice to have something green on my altar, a place where I take some time each day to slow way down. This way my altar can be imbued with and alive with spirit, as well as with greenery - which is alive in the same way I am...breathing and dynamic.
This Tillandsia Xerographica is a beautiful, easy to take care of plant!  5-6" wide on average. 
Air Plant Care: Water your air plant once a week by soaking it in a bowl of water for 20 minutes. Let air dry upside down to prevent root rot. Air plants prefer bright, indirect sunlight. They thrive within a range of 50-90 degrees Fahrenheit. 
**Unfortunately we are unable to ship air plants outside of the United States of America.**